From the President's Desk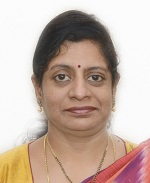 My greetings to the wonderful fraternity of DRDO Mahila Kalyan Manch !
I am privileged to speak to you on this day, as we re-dedicate ourselves for the cause of DRDO MKM.
MKM was founded in June 2004, to bring together the women of DRDO family - DRDO Lady Officers, Staff and the inspiring DRDO homemakers - to join hands and pursue goals for self-fulfilment and in the process give back for well being of society at large.
The woman of today handles a plethora of responsibilities that include holding a job, working at home, looking after children as well as supporting her spouse in addition to working for the society. It is the women, who through their unstinted efforts play a key role in the development of the society. As equal partners let us also direct our efforts to the society outside our family, and try to make our presence felt specifically for the welfare of women and children.
In the past, members of MKM have conducted various activities including educating underprivileged children, arranging medical check-ups, self-improvement classes and awards ceremonies, to achieve the objectives of MKM. I encourage the women of MKM from each DRDO laboratory/establishment to come up with specific goals for the years ahead and take steps to implement them actively.
I look forward to our concerted efforts towards achieving our set goals.
With best wishes
Annadevula Padmavathi