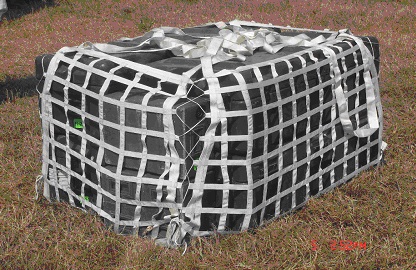 Helinet For CHEETAH Helicopter
Helinet are made of textile tapes and cordages which are primarily used for transportation by helicopters in underslung condition. Such nets for Chetak/Cheetah helicopters have been successfully designed and developed by ADRDE. These nets are also being used for transporting the components of LLLR radars developed by one of our sister lab. Its ToT has also been given to industry.

The Helinet can be used for carrying supply items such as food, medicines, clothing, water, fuel etc. underslung of the Helicopter. It can also be used in rescue/relief operations. Helinet can be selected by Para-Military forces like CRPF, BSF for their LIC operations for their effective utilization for their operations.