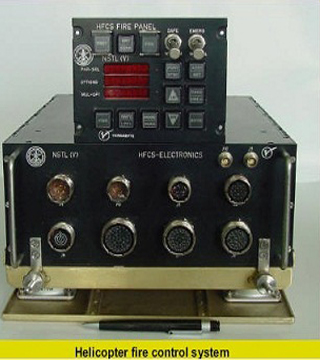 Helicoptor Fire Control System
A helicopter fire control system (HFCS) has been developed by DRDO for the naval ALH. The HFCS interfaces to dunking SONAR and helicopter motion sensors, for subsurface and surface target tracking. lt performs contact motion analysis (CMA) and generates fire control solutions.
The system pre-sets and releases TAL and A244S torpedoes, and depth charge Mk ll. The HFCS meets MIL STD 810E and 462C EMI/EMC for airborne applications. Three systems have been delivered to Hindustan Aeronautics Limited.
Salient Features
Interface to Dunking Sonar and Tactical Mission System.
Generation of FCS by Contact Motion Analysis (CMA).
Weapon preset and interface modules.
Contra Rotating Propellers
Conduction cooled chassis.
Weapon preset and interface modules for TAL & A244S torpedoes.
Record & replay facility
Capable to release depth- charges