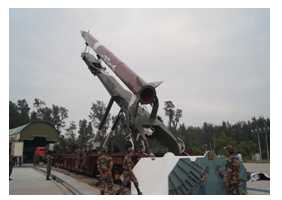 Ground Support System for Missile Programme
R&DE(E) has successfully supported various missile programs for developing and delivering all Ground support systems. The launchers and other Ground Support Systems developed are as follows:
Development of Launch System for AGNI variants
The successful development of Launcher Platforms for AGNI variants namely A-I, A-II, A-III and A-V have been completed. These are Road Mobile Launcher Systems and Rail Mobile launcher Systems for the three variants of Missiles.
AGNI-I: ROAD MOBILE LAUNCHER (RML)
Mark III, has been configured and designed to transport, articulate and launch a 15 m long and 1 m diameter Article. The Integrated System of RML broadly consists of a Carrier Vehicle (tractor-trailer duo), Launching Mechanism and LIS Integration System.
AGNI-II
The launcher is installed at LC-IV, Dhamra for test launches of AGNI-2 missile carried out by the users regularly.TCT1-MK-II is a Rail based launcher installed on the well type special wagon of length 25.4 mtrs length. The entire launcher can be transported on broad gauge of indian railway.Articulation of the missile from the horizontal to vertical position of 90 deg within the accuracy of 6 minutes. Safe De-articulation of the launcher & return to the base.
AGNI-III
The Launcher for A3 consists of Tilt beam mounted on Rail Wagon, the support systems, and outriggers for leveling of wagon, Article Integration device and the Hydraulic system for tilting. It also consists of pneumatic actuation system for retraction of First Stage Support Arm Assembly.
Prithvi Launcher System
The Air Force and Army versions of the Launchers have been successfully designed and developed. Productionization of the launchers for both Army and Air Force has been carried out. 12 Nos of launcher systems P1 for Army and 42 Nos of P2 for Air Force have been produced and delivered to services.
Launchers for Brahmos Cruise Missile
Government of India and Russia has entered into a joint venture for development of a Supersonic Long Range Anti Ship Cruise Missile system. DRDO & NPOM, Moscow are the development agencies. Programme PJ-10 is the DRDO part of the joint venture. The Programme started off with signing of contracts with Joint Venture company named as "BrahMos". Platform Systems Work Centre: R&DE (Engrs), Pune has been made a nodal agency for the development of Launcher & ground systems for BrahMos missile. The Platform Systems Work Centre includes design of various kinds of Launcher & Ground systems equipments for both demonstration launches as well as launch from land & ship platforms.
B-05 Programme
This is the submarine based Missile Launcher System. A Mobile launcher and a Pontoon Launcher have been realized. The pontoon launcher has been successfully used for flight trials. A system of four such launchers has been installed on the submarine.
Akash Airforce Launcher (AAFL)
A mobile launcher for launching of AAD surface-to-Air Missile has been successfully developed and realized. AAFL is to carry, support, orient and launch three AKASH articles from an inclined firing position. AAFL should be capable of executing tracking commands in slave mode (auto mode). The AAFL should also be capable of orientation of the articles in elevation and azimuth plane simultaneously to commanded positions accurately within specified time duration. The Akash Air Force Launcher is a Trailer mounted Launcher system carrying three Articles. Realisation of 32 Nos. of Production Order Launchers completed and handed over. 16 Launchers (Two Sqdns) and Support Systems (AF version) being productionised through BEL 48 Launchers for AF and 48 launchers for Army with other ground systems likely to be released. Army acceptance likely for six batteries (24 Nos) of Wheeled version
Launcher For 'NIRBHAY'
A mobile launcher to carry, support, transport orient & launch a cluster of four sub-sonic cruise air-vehicle from a vertical firing position has also been realized. The launcher is required for an accurate, smooth, safe & stable launch in a well consistent manner in a field environment. Successful Development and Realisation of first prototype has been completed. Flight trials have been conducted successfully.
LAUNCHER FOR MRSAM
MRSAM is land based medium range Air Defence surface-to-air missile system. The system enables transportation, emplacement, erection, activation and launch of 8 MRSAM CanisterisedMissile from a vertical firing position in single as well as ripple modes. The re-loader vehicle is used for loading / unloading of Cassettes on the launcher & also used to carry two Canisterised Missile Cassettes. Successful development and realisation of two launcher prototype units have been completed.
QRSAM Mobile Launcher Vehicle and Canister
All Round Missile Firing Capability in elevation from 10 to 60° and Azimuth 360 °
Quick Deployment and Launching of the Canisterised Missiles from uneven grounds with ground slopes of up to 5 deg
All Weather Condition and Day Night Operation
High Slewing & Tracking Rates with precise positioning
Automatic High Speed Deployment System
Cross Country Mobility & Transportation by Air, Rail Road &Ship
Prahar Launcher
It is a deployable launcher for surface-to-surface mode of AAD Missile. The role of Prahaar missile launcher is to transport, erect, emplace & launch Six Canisterised AAD Missile. The Mobile launcher system for Prahaar is designed & configured to carry six pressurized Canisters of AAD Missile. The system is capable of launching the missiles in both vertical as well as inclined firing position. The launcher iscapable of fully automatic operation due to the microprocessor based electric servo drive system. It is based on high mobility TATRA 12x 12 vehicles for cross country requirements. Successful Development and Realisation of Launcher Prototype unit has been completed.