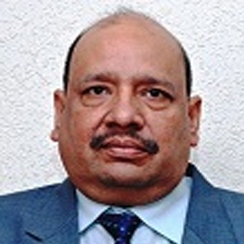 Shri Sudhir Gupta
Distinguished Scientist Director General - Technology Management (TM)
Shri Sudhir Gupta, Distinguished Scientist took over as Director General Technology Management (TM) at DRDO HQrs from 01 July 2017.
Shri Sudhir Gupta is an Engineering graduate of PEC, Chandigarh (1983) and holds a PGD in Computer Science and applications from Punjab University Chandigarh (1984). He has also attended various specialization courses including at IIM, Ahmedabad and other universities.
He joined Aeronautical Development Establishment (ADE) as Scientist 'B' in Oct 1984 and worked on Unmanned Aerial Vehicle (UAV). Later he moved to Aerial Delivery & Development Establishment (ADRDE), Agra and worked on projects Agni, Prithvi, Light Combat Aircraft (LCA), development of parachutes and lighter than air systems.
He has vast experience as Director (Aeronautics), Secretary, Aeronautical Research and Development Board (AR&DB), Director, Centre for Personnel Talent Management (CEPTAM) and Director, Recruitment and Assessment Centre (RAC), Delhi.
He has also visited many of the universities at Unites Kingdom, Netherland, Germany, Russia and Czech Republic.
He has been awarded Agni Award for self Reliance-2012 and seven technology and performance awards. He has 34 Publications to his credit. He is also a fellow member and Chairman of the Aeronautical Society of India, AeSI (Delhi).
The following Directorates/Research Boards have come under DG (TM) cluster :