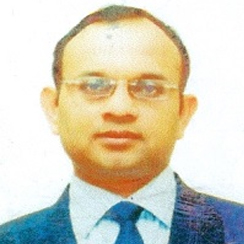 Shri Subir Mallick
IA&AS, Additional Financial Adviser (R&D) & JS, Ministry of Defence (Finance)
Area of Specialisation
Finance, Auditing, Accounts, Defence Procurements, Information Technology, Training.
Educational Qualification
Bachelor of Technology in Chemical Engineering (1988) from Indian Institute of Technology (IIT) Delhi.
Professional Qualifications and Trainings
IT audit - Certified Information Systems Auditor (CISA)
Systems Analysis and Design : Trained in Japan by JICA
Trained in SQL and Developer 2000 and certified by ORACLE Inc.
Transnational Security Co-operation Course conducted by APCSS, USA.
Professional Qualifications and Trainings
Defence Ministry

Two years - Procurement policy and Capital Procurements of Army

State Audit

Seven years - Chhattisgarh and Bihar

State Audit

Six years
- Central Excise, Service Tax, Customs, Railways at Delhi
- MEA at Washington DC

Accounts, GPF, Pension

Nine years - West Bengal, Nagaland, Chhattisgarh

Training

Faculty member for three years at National Audit Academy, Shimla

Audit of four UN Organisations

WHO, UNAIDS, IARC, IAEA
Countries visited for Audit/Training/Defence Matters
United States of America, Russia, Canada, Mexico, Panama, Cuba, Jamaica, Trinidad and Tobago, Peru, Brazil, Argentina, Chile, United Kingdom, Japan, France, Saudi Arabia, Poland, Iran, Austria and Switzerland.