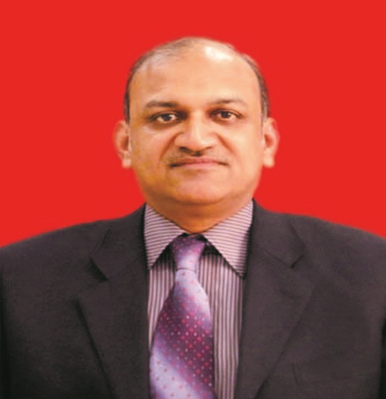 Shri Pravin K Mehta
Distinguished Scientist & Director General - Armament & Combat Engineering Systems (ACE)
Shri Pravin Kumar Mehta, Distinguished Scientist assumed the charge of Director General (Armament & Combat Engineering Systems) w.e.f 7th Apr 2016. He is guiding the team of scientists under the Armament Cluster Group of Labs located at Pune, Ahmednagar, Nasik, Chennai, Balasore and Chandigarh / Manali for design and development of Armament and Combat systems. The flag ship projects of ACE Cluster Towed Artillery Gun (ATAGS), Multi Barrel Rocket system Pinaka, Main Battal Tank Arjun variants, Wheel Armored Platform (WhAP), Mobile Bridging Systems, Arms & Ammunition realization for Induction into Services, as well as Export of Defence Equipments, is spearheaded by him.
His area of specialization is structural design, development, realization, delivery and deployment of multi-disciplinary large complex systems leading to indigenization. He is a trained Structural Engineer from IIT Delhi and awarded M. Phil (Defence& Strategic Studies) for his research work on "Self Reliance in Defence Research & Production through Private Sector Participation" during the 51st NDC course. The research work included a "Comprehensive National Mission based on technologically calibrated fixed time frame based, moratorium on import of defence equipment" taking into account the available resources within the country in public and private sector and formulated road map for Self-reliance in Defence Research and Development.
He has been associated with prestigious AGNI Missile Program right from its inception, and was responsible for the design & development of all critical ground support systems which were essential for deployment of different AGNI variants including Rail / Road mobile launch platforms.
He joined DRDO in the year 1986, and is one of the pioneer member of AGNI ground support system development team, initially, in IGMDP and subsequently in Programme SF&D. As Project Director, he led the team towards successful developments of Rail / Road mobile missile launch platform for all AGNI variants. Mother Operating Base was established to master the deployment technologies, finalization of system with user, operational training & drills for AGNI missile ground systems. The critical technologies required for the realization of these multidisciplinary systems are mastered with validation through simulation, rigorous proof testing, extensive field trials, as well as mobility trials. He has been instrumental in devising innovative schemes/solutions and establishing effective interfaces among all stake holders like, Indian Railways, ISRO, CSIR, leading Industry partners, Academia and Users leading to realization of country's maiden "ICBM class Deterrent".
Heading propellant processing facility, he led the team for successful realization oflarge number of motors for project B-05 & K-4 in record time. All the motors processed performed flawlessly in various flight trials of B-05 and maiden flight of K4.
Shri Mehta has been conferred with DRDO Technology Leadership Award for the year 2019. DRDO Special Award for strategic contribution year 2014DEMA Appreciation Award 2008.DRDO Scientist of the year Award year 2007 DRDO Path Breaking Research / Outstanding Technology Development Award year 2007, Technology Group Award in 2006.DRDO AGNI Award of excellence in self-reliance in 1999 amongst many other recognition and he is a Fellow and Member of many professional societies.