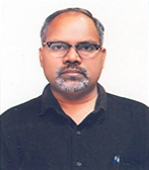 Sh. Purusottam Bej
Outstanding Scientist & Director General, Resource & Management (R & M)
Sh. Purusottam Bej, Sc 'H' has been appointed as DG(R&M)on 14 November 2022. Sh Purusottam Bej, Sc 'H' serviced as Director, Dte. of Finance and Material Management (DFMM) from 1st May 2019 to 14 November 2022.
Sh P Bej has done his B.Sc. (Engineering) (Civil) from NIT Rourkela (formerly REC) in 1986 and completed his M.Tech in System Engineering and Management from IIT Kharagpur in 1988. Later, he pursued MBA (Tech Management) in 2004-2006 from Osmania University, Hyderabad.
Sh P Bej joined DRDO on 14 June 1988. He started his career at DRDL, Hyderabad as Scientist 'B'. At DRDL, he has been involved in Project Management and Information Systems. He was working as Director Admin, O/o DG (MSS) before joining as Director DFMM. Prior to his posting as Director (Admin) in O/o DG (MSS), he was working as Director Material Resources in DRDL.