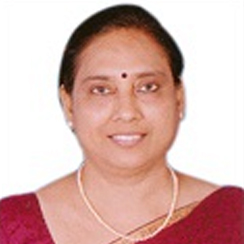 Ms. J Manjula
Distinguished Scientist & Director General - Electronics & Communication Systems (ECS)
Ms Jillelamudi Manjula is a post graduate in Electronics and communication engineering with subject specialization in Digital Systems. She initially served at Electronics Corporation of India Limited, Hyderabad for a brief period where she was a member of a team carrying out production engineering of HF Transceiver units designed at UK, extensively employed by para military forces, disaster management units, state police etc.
She joined Defence R&D organization in 1987, at Defence Electronics Research Laboratory, Hyderabad and served there for 26 years in various Electronic Warfare Projects of different magnitudes and in various capacities.
Ms. J. Manjula is a specialist in the area of Electronic Warfare (EW). EW is an effective Force multiplier and provides decisive victory to the owner in the battlefield. At Defence Electronics Research Laboratory, she shouldered responsibility to progress state-of-the-art technology development and systems development for the Tri-Services in the field of Electronics Warfare. The projects undertaken by her have been successfully trial evaluated and quantity inducted in the Services and para-military. She has realized the systems for operations in plains, semi-deserts, mountains, jungles, airborne and ship based applications and participated as team Leader in all the field trials. A number of EW payloads for Aerostat, UAV, Helicopter, Aircraft, Naval Ship and vehicular systems have been developed under her guidance. Apart from large scale systems development, she is also passionate about directed research towards technology development and has excelled in the areas of High power RF, fast signal acquisition, follower jamming, Frequency synthesis etc.
In July 2014, she was appointed as Director for Defence Avionics Research Laboratory, Bengaluru. At Defence Avionics Research Establishment at Bengaluru, she with a team of scientists and engineers progressed challenging tasks of development and upgradation of various Airborne Self Protection Jammers, Missile Approach Warner and fighter avionics for Indian Airforce. In Sep 2015, she has been appointed as Director General for Electronics & Communication Cluster with laboratories developing Electronics, Radar, Electro optics equipment and systems for tri services.
She is a recipient of DRDO Performance Excellence award in 2006, Scientist of the year award in 2011, India Today's Woman in Science award in 2014, AoC's Best Contributor in EW award in 2015, and Marie Curie Mahila Vijnana Puraskara in 2015 from Swadeshi Vijnana Andolana - Karnataka. She has many patent applications to the credit of her team.