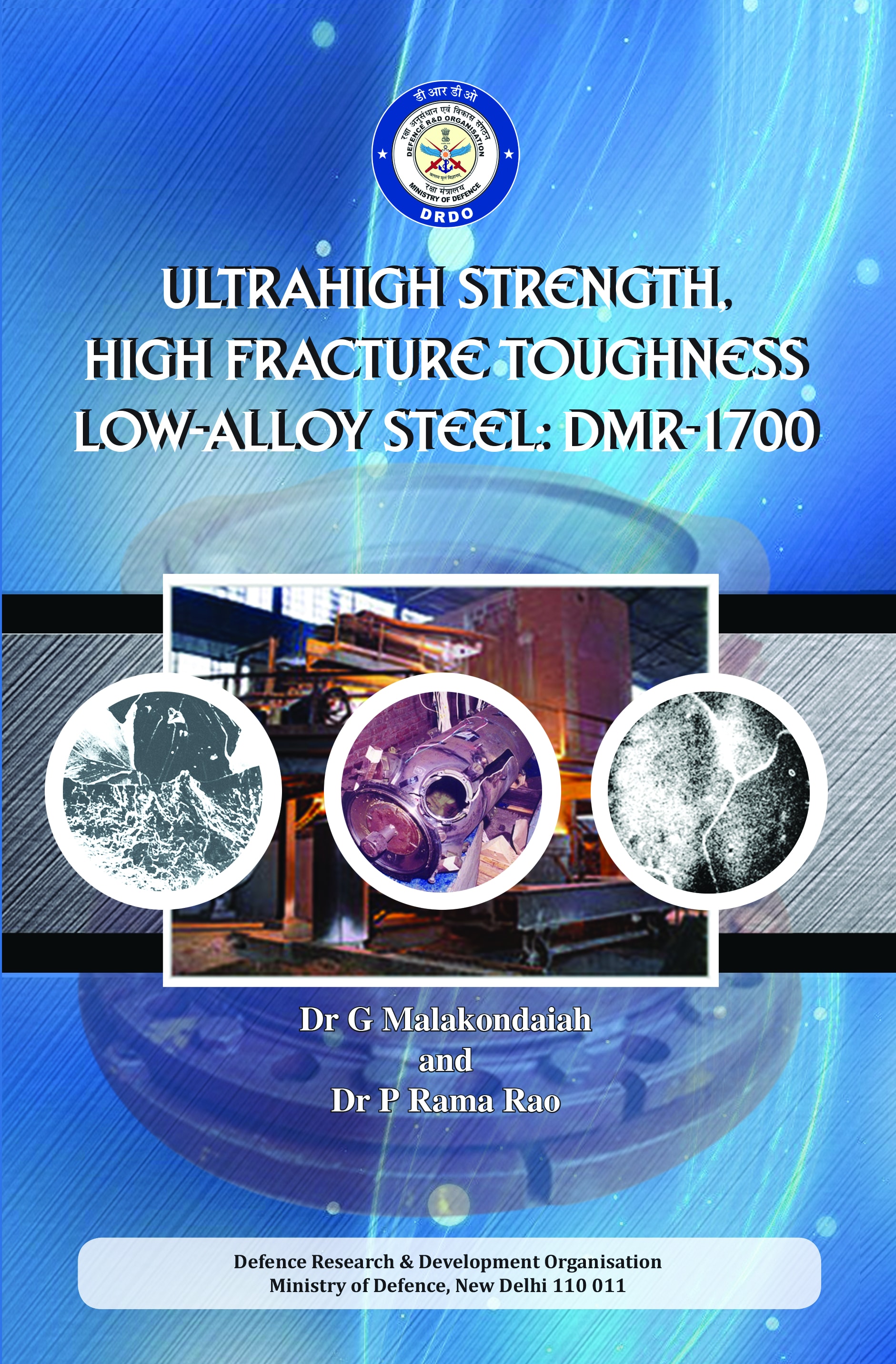 Ultrahigh Strength High Fracture Toughness Low alloy Steel DMR-1700
Name of Author : Dr G Malakondaiah and Dr P Rama Rao
Pages: 324
ISBN : 978-81-86514-66-5
Price : INR 1050 US $ 50 UK £ 40
Language :

English

Publisher : DESIDOC
Year of Publishing : 2019
About the Book
Steels for several high-technology applications, such as military hardware and aerospace, need to possess ultrahigh strength (UHS; minimum yield strength of 1380 MPa (200 ksi)) coupled with high fracture toughness in order to meet the requirement of minimum weight while ensuring high reliability. Broadly, there are four classes of UHS steels: (a) low-alloy steels typified by AISI 4340, (b) high-alloy maraging steels typified by 18Ni1700 steel, (c) high-alloy secondary hardening steels typified by AF1410, and (d) carbide-free bainitic steels. Distinctive characteristics of the UHS low-alloy, maraging, secondary hardening and bainitic steels have been presented in the monograph. In such applications, though performance of materials is of prime consideration, cost and availability make low-alloy steels an attractive option. However, the use of low-alloy steels has often been limited by their low fracture toughness.

A comprehensive research programme was launched at the Defence Metallurgical Research Laboratory (DMRL) during mid-1980s to develop a cost effective low-alloy alternative to the highly alloyed 18Ni1700 maraging steel. The monograph describes the more than three decades of R&D work that led to the research-based development of a new UHS low-alloy steel, designated DMR-1700, its production and its defence applications. The strength and toughness combination of DMR-1700 steel is better than the best reported values of low-alloy steels AISI 4340, 300M and D6ac, and is comparable to that of 18Ni1700 maraging steel. Given this result, DMR-1700 steel has been successfully demonstrated for (a) one-to-one replacement of maraging steel for missile casings, (b) substantial reduction of weight of the base plate for 120 mm long range mortar and (c) superior ballistic performance for armour applications. To address cost effectiveness of DMR-1700, DMRL pursued ladle refining and vacuum degassing + continuous casting route and found that the steel met the chemistry and properties successfully.
About the Authors
Dr G Malakondaiah obtained his PhD in Metallurgical Engineering from Banaras Hindu University (BHU) in 1980. He served on the Metallurgy faculty of BHU for two years as lecturer (1980-82) prior to his joining Defence Metallurgical Research Laboratory (DMRL) in October, 1982. His research work has been broadly in the area of advanced mechanical metallurgy, with emphasis on structure-mechanical property correlations in metals and alloys. He has been interested in the development of specialty steels. Thus he got engaged in the comprehensive research programme aimed at developing a cost effective low-alloy alternative to the highly alloyed 18Ni1700 maraging steel. This major programme, launched during the mid-1980s, eventually led to the development of DMR-1700 steel. In recognition of his contributions to specialty steels, including DMR-1700 and naval steels, he was awarded Agni Award for Excellence in Self-Reliance (2005) by DRDO and DRDO Technology Leadership Award-2010. He retired from DRDO, as Distinguished Scientist, in 2014 after serving as Director of DMRL (2007-2013) and subsequently as Chief Controller R&D of DRDO (2013-2014). Post-retirement from DRDO, he also served as Steel Chair Professor at NIT-Warangal (2015-2016). He is a Fellow of the Indian National Academy of Engineering and the Telangana Academy of Sciences.

Dr P Rama Rao is at present Chairman, Council of Indian Institute of Science (IISc), Bangalore and International Advanced Research Centre for New Materials, Hyderabad. He was a Professor of Physical Metallurgy at Banaras Hindu University and he has served as Director, Defence Metallurgical Research Laboratory, Hyderabad, as Distinguished Scientist in Defence Research and Development Organisation, as Secretary to Government of India, Dept of Science and Technology, as Chairman, Atomic Energy Regulatory Board and then as Vice-Chancellor, University of Hyderabad. He was awarded distinguished Professorship by Indian Space Research Organisation (ISRO). He is a Member of the Atomic Energy Commission. He has been elected Fellow of The Royal Academy of Engineering (UK) and Foreign Member of the US National Academy of Engineering. He has been President, Indian Academy of Sciences (1995-97), President, Indian National Academy of Engineering (2001-03), General President, Indian Science Congress Association (1997-98), and President, Indian Nuclear Society. He was President, International Congress on Fracture (1989-93) and Vice-President, International Union of Materials Research Societies (2002-03). He was a member of the Science Advisory Council to the Prime Minister and a member of the National Security Advisory Board. He was awarded Padma Vibhushan (the second highest civilian award) by the President of India in 2011.