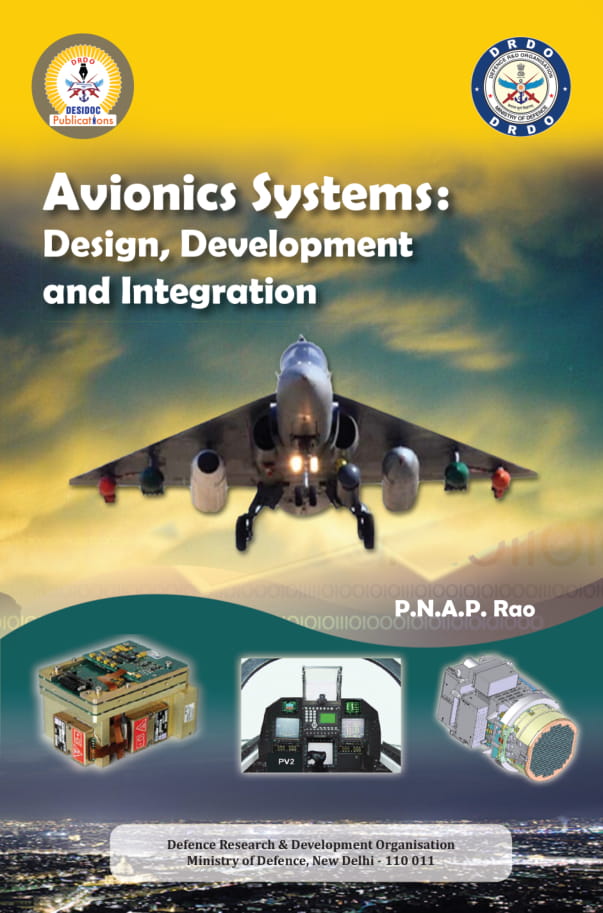 Avionics Systems Design Development and Integration
Name of Author : Shri P.N.A.P. Rao
Pages: 376
ISBN : 978-81-86514-59-7
Price : INR 1260 US $ 33 UK £ 30
Language :

English

Publisher : DESIDOC
Year of Publishing : 2019
About the Book
This monograph deals with the subject of avionics systems of both fighter aircraft and civil aircraft. Modern integrated avionics systems implement various complex functionalities of the aircraft. and have interfaces with all the other systems on board the aircraft. This makes the design and development of avionics systems a complex process. This monograph covers all these aspects in detail. Subjects covered include: Avionics System Functionalities, Subsystems, System Design, Speciality Engineering topics like QA, Reliability and EMI/EMC, Development, Safety, Integration, Testing and Certification of Avionics Systems. It also covers lessons learnt in most of the topics based on the experience of the author in the Indian Light Combat Aircraft (LCA)-Tejas Program.

Design for Safety which requires adoption of Fault Tolerant features–both in hardware and software, modern software engineering processes and tools are also dealt in detail. Pilot Vehicle Interface (PVI) and Human Factors (HF) are important topics covered as part of the cockpit design, automation and safety design. Certification aspects for both fighter and civil aircrafts are covered. Multi Mode Radar (including AESA), EW systems and EM and IR sensors including reconnaissance pods are covered. Modern techniques and future trends in avionics are also elaborated.

This book will be of interest to avionics engineers, technicians, operators, maintenance engineers and all those who have interest in avionics systems.
About the Author
Shri P.N.A.P. Rao obtained his BTech (Hons) Degree in Electronics and Communication Engineering from IIT, Kharagpur in 1963 and MS Degree from JNT University, Hyderabad in 1984. He is a Graduate of National Defence College, New Delhi.

He worked at Defence Electronics Research Laboratory from 1964 to 1989 in the areas of EW Systems, Communications Systems, and EMI/EMC. He was with Aeronautical Development Agency (ADA) as Project Director (System) during 1989 to 2002, leading the National Team on the Design & Development of Avionics & Weapon Systems for Indian Light Combat Aircraft (LCA-Tejas) which has been inducted into service with Indian Air Force. He held the post of Outstanding Scientist during 2001-2002 and Emeritus Scientist in 2002-2003 at ADA. He also worked as a Specialist Consultant at NAL working on the National Civil Aircraft Development Program (NCAD) from April 2010 to March 2013. He has more than 80 papers in journals, conferences & books to his credit.

He was conferred the Dr VM Ghatge Award by Aeronautical Society of India in 2001, Award by the Society of EMC Engineers (India) in 2001 and IETE-B V Baliga Memorial Award-2016 for his outstanding contributions to the development, integration and flight testing of avionics system of Indian LCA and for pioneering contributions towards development and growth in the fields of Avionics, Electronic Warfare and EMI/EMC.