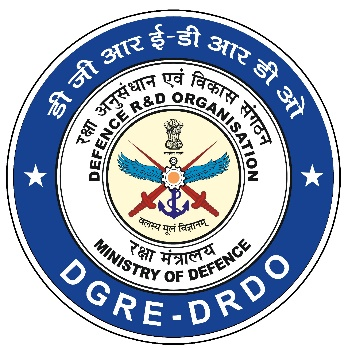 अंतरराष्ट्रीय प्रशिक्षण पाठ्यक्रम
International Training Course
on
पर्वतीय भू-आपदा आंकलन एवं प्रबंधन
(एम.जी.ए.एम.-2022)
Mountain Geo-Hazard Assessment and Management
(MGAM-2022)
21-25 March, 2022
at
अनुसंधान एवं विकास केंद्र, डी.जी.आर.ई., मनाली (भारत)
Research & Development Centre, DGRE Manali (India)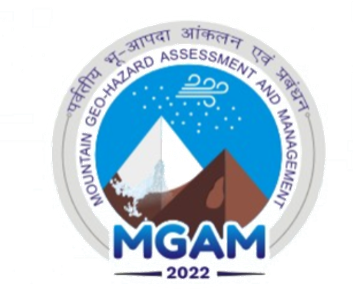 रक्षा भू-सूचना विज्ञान अनुसंधान प्रतिष्ठान (डी.जी.आर.ई.), चण्ड़ीगढ़
Defence Geoinformatics Research Establishment (DGRE), Chandigarh
रक्षा अनुसंधान एवं विकास संगठन
Defence Research & Development Organization
Patron-in-Chief
Dr G Satheesh Reddy
Secretary, Department of Defence R&D and Chairman, DRDO
Patron
Shri Pravin K Mehta, DS & DG (ACE)
Advisory Committee
Dr S K Mishra, DS & DG and CEO & MD, BrahMos
Ms J Manjula, DS & DG (ECS)
Dr Samir Vankatpati Kamat, DS & DG (NS&M)
Dr (Ms) Tessy Thomas, DS & DG (AS)
Dr BHVS Narayana Murthy, DS & DG (MSS)
Shri K S Varaprasad, DS & DG (HR)
Shri Hari Babu Srivastava, OS & DG (TM & SAM)
Dr Sudhir Kamath, OS & DG (MED & CoS)
Shri G N Rao, OS & DG (PC & SI)
Dr U K Singh, OS & DG (LS)
Shri Sangam Sinha, OS & DG (R&M)
Shri Vedveer Arya, JS & Addl FA
Chairman
Dr PK Satyawali, Director, DGRE
Convenor
Dr Amod Kumar, Sc 'G'
Co-Convenor
Sh Sanjeev Kumar, Sc 'E'
Organizing Committee
Sh R K Varma, Sc 'G'
Dr Pinaki Roy Chowdhury, Sc 'G'
Sh M K Kalra, Sc 'G'
Dr Snehmani, Sc 'F'
Sh P S Negi, Sc 'F'
Sh R K Garg, Sc 'F'
Dr V D Mishra, Sc 'F'
Dr P K Srivastava, Sc 'F'
Dr Sujata Dash, Sc 'F'
Dr Amreek Singh, Sc 'F'
Dr Jimmy Kansal, Sc 'F'
Dr Ganesh Kumar, Sc 'F'
Sh Vinay Chaudhary, Sc 'F'
Sh Tribhuwan Singh Rawat, Sc 'F'
Dr Sunil Bhardwaj, Sc 'F'
Sh. Vivek Saxena, Sc 'F'
Sh Rajeev Kumar Das, Sc 'F'
Dr H S Negi, Sc 'F'
Sh Neeraj Sharma, Sc 'F'
Smt Geeta Gupta, Sc 'F'
Dr Jagdish Chandra Joshi, Sc 'E'
Sh Rajeshwar Dogra, Sc 'E'
Dr Neeti Jain, Sc 'E'
Sh Ram Prakash, Sc 'E'
Brief Introduction
प्राकृतिक आपदाएं विकसित एवं विकासशील देशों में समान रूप से भारी तबाही करती हैं तथा समाज व अर्थव्यवस्था पर नकारात्मक प्रभाव डालती हैं। देश के हिमालय क्षेत्र, सामान्यतः हिमस्खलन, भूस्खलन, ग्लोफ (ग्लेशियर झील के फटने से उत्पन्न बाढ़), ललोफ (भूस्खलन जनित् झील फटने से उत्पन्न बाढ़॥ और बादल फटना आदि जैसी आपदाओं का सामना करते हैं। पर्वतीय प्रदेशों के विकास व बढ़ती हुई मूलभूत सुविधाएं जैसे कि हाइवे, सुरंगे, पावर वितरण लाइनें, पर्यटन आदि उद्देश्यों को पूरा करने के लिए इन आपदाओं का हल निकालना एक चुनौतिपूर्ण कार्य है। नई प्रौद्योगीकी की उपलब्धता से भू-आपदाओं (हिमस्खलन व भूस्खलन) का स्थानीय वितरण समझने व निवारण प्रदान करने में मदद मिली है। इसने आपदा प्रबंधन संबन्धित योजना बनाने व उचित कार्यान्वयन में सहयोग दिया है। रक्षा भू-सूचना विज्ञान अनुसंधान प्रतिष्ठान (डी.जी .आर.ई), हिमालय क्षेत्र में हिमस्खलन एवं भूस्खलन आपदा निवारण के लिए नई प्रौद्योगिकी का विकास तथा अभियांत्रिक हल प्रदान करने मे अग्रिम स्थान रखता है।
Natural disasters strike countries, both developed and developing alike, causing enormous destruction and human suffering, thereby have an adverse impact on society and economies. Avalanches, landslides, Glacier Lake Outburst Flood (GLOF), Landslide Lake Outburst Flood (LLOF) and cloud burst, etc., are the major threats faced by the countries in the Himalaya. It has become a challenging task for the Government and society to find solution of these hazards for hilly states development, growing mountain infrastructures such as highways, tunnels, power transmission lines, tourism, etc. Recent advancements in the existing technologies have helped to understand the spatial distribution of geo-hazard and further improvements in avalanche and landslide mitigation measures/ schemes. It has enabled hazard management authorities in planning and implementation of hazard reduction programmes. Defence Geoinformatics Research Establishment (DGRE) is in the forefront for development of new technologies and providing engineering solutions for the mitigation of the avalanche and landslide risk in the Himalayan regions.
यह प्रशिक्षण इस क्षेत्र में कार्य करने वाले राष्ट्रीय व अंतराष्ट्रीय विशेषज्ञों, वैज्ञानिकों, शौधकर्ताओं को इन आपदाओं से संबन्धित विषयों की जानकारी आदान- प्रदान करने तथा हल हेतू नवीनतम तकनीकों का ज्ञान सामान्य प्लेटफॉर्म पर रखने का अवसर प्रदान करेगा। इस प्रशिक्षण पाठ्यक्रम में राष्ट्रीय तथा अंतराष्ट्रीय विशेषज्ञों की उपस्थिति से प्रतिभागियों के विश्लेषणात्मक तथा निरीक्षणात्मक कौशल का विकास होगा।
This training will provide a common platform for national and international experts/scientific community /researchers working on subject to disseminate and exchange the expert knowledge and renewed actions to address the problems of snow avalanches, landslides, GLOF, LLOF etc. With availability of international experts/speakers, the course modules will improve the analytical capabilities and observational skills of the participants.
Training Content
S.No.
Themes/Topics
Theme 1: Geo-hazard formation and its characterization
 

Hazard Assessment
Hazard formation: Mountain Snowpack Processes
Avalanche Formation
Principles of Snowpack Evolution Modeling
Advanced Snow Material Characterization Techniques
Advanced Snow Profile Measurement Tools
Genesis of landslides and movement

Theme 2: Geo-hazards mapping, monitoring and forecasting
 

Hazard mapping and zonation
Acoustic Emission (AE) based Avalanche Slope Stability Assessment System
Avalanche Detection and Localization
Predictive Modeling of Snow Avalanches and Landslides
Classification Techniques of Snow Avalanches and Landslides
Techniques used for avalanche forecasting
Field data collection and forecast dissemination techniques
Mountain weather forecast
Analog Ensemble (AE) system for real time local scale weather forecasting
Landslide monitoring system

Theme 3: Geo-hazard dynamics and control measures
 

Avalanche dynamics: models/techniques
Landslide/ GLOF dynamics
Planning for structural control measures
Artificial triggering techniques
Field excursion/visit to nearby field observatory

Theme 4: Geo-hazard risk analysis, safety and rescue measures
 

Risk analysis and management
Disaster Preparedness & Mitigation- preventive measures and its dissemination
Post-disaster Management
Disaster Response, Relief, Recovery/Rescue measures, Rehabilitation and Reconstruction
Avalanche Safety and Rescue Training

Theme 5: Geo-informatics applications
 

Remote sensing applications for terrain, snowpack and avalanche characterization
Integrated GIS-Enabled Decision Support System (DSS) for Snow and Avalanches/Landslides
Real-Time Avalanche Path Warning & Navigation
Call for participation
Participants are requested to register themselves through online or on email to convenermgam@dgre.drdo.in. The participation will be confirmed through email by the convener.
Registration:
For registration please fill up the attached registration form and send it to convener on email convenermgam@dgre.drdo.in. Due to limited availability of seats, participants will be selected on the basis of their educational background/ work experience/ work domain/ training utility. Participants have to follow the COVID guidelines of Govt. while entering into the state.
Registration opening dates
15 Nov 2021 onwards.
Venue & Date
The international training will be held in the premises of Defence Geoinformatics Research Establishment (DGRE) at Manali, Himachal Pradesh, India during 21-25 March, 2022. Any changes due to Covid-19 pandemic at that time will be intimated on website or through email.
Accommodation
Participants are required to make own arrangements for the duration of stay. The detail of Hotels will be shared on website to facilitate the participants. Information on stay should be shared with the convener for the purpose of arranging transport and necessary permission. The accommodation charges are to be borne by the participants/individuals.
Field excursion/study tour
A study tour is also planned to nearby field research station for exposure of the participants.
About Manali (HP)
Manali is a famous tourist place, having rich cultural heritage in and around the township. There are many tourist spots of interest, like Roerich Art Gallery, Tibetan monasteries, Vashisth Hot water spring, Hidimba Temple, Atal Tunnel, Rohtang Pass, etc. Manali is located at an altitude of 2,050 meters and temperatures in the month of March may rise as high as 26 °C during days and can drop down to freezing temperature in the nights.
Registration:
For registration please fill up the attached registration form. The participants will be selected on the basis of their educational background / work experience / work domain and first come first serve basis. 2 to 3 numbers of participants from each organisation can be allowed to attend the training program depending upon the response.
Convener (MGAM-2022)
Dr. Amod Kumar
Him Parisar Building, Plot No-1
Sector 37-A, Chandigarh-160036 (INDIA)
Tele : +91 172-2699804, Extn. 204
(O) : +91 9422330471
Fax : +91 172-2699802/2699970
E-mail : convenermgam@dgre.drdo.in
Brochure of MGAM-2022 : Pdf Format
Training Request/Registration Form  -   Pdf Format
Training Request/Registration Form- Doc Format
Invited Speakers:- Pdf Format
Hotel Rates at Manali:- Pdf Format