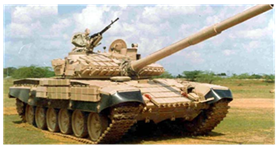 Explosive Reactive Armour (ERA)
ERA disrupts and defeats the shaped charge jet of anti-tank missile warheads effectively. ERA also provides protection to tank against heat and KE threats. Have Provision for fitment of reactive elements in panels without removing the panels, thus fast up arming of the tank.
Explosive Reactive Armour (ERA) Mk-I
HEMRL has developed ERA Mk-I for Tank T-72 M1(CI Ajeya) for providing protection against modern anti tank guided missiles like MILAN. The technology has been transferred to Ordnance Factories for productionisation.
Salient Features
Modular type of configuration on hull glacis
Reduces the penetration of Shaped Charge warheads by ~ 70%
Immune to detonation by impact of small arms & stray fragments
No sympathetic detonation between adjacent panels and minimum collateral damage
Easy fitment and replacement
Least sensitivity and safe to handle
Effective even after deep fording
Status
About 1400 tank T-72 M1 (CI Ajeya) are fitted with ERA Mk-I.
Explosive Reactive Armour (ERA) Mk-II
Salient Features
Integral type configuration on hull glacis, in which the panels have been welded on tank surface and a window for positioning of reactive elements.
Adaptable to all the three tanks i.e. T-72, T-90 and Arjun Mk-II of Indian Army
No sympathetic detonation between adjacent elements inside the panel and immune to detonation against small arms
Additional weight on one tank : 1.5T
Effective even after deep fording
The product has been accepted by the Users and likely to be inducted for fitment on MBT Arjun Mk-I A and import substitute for T-90 Tanks