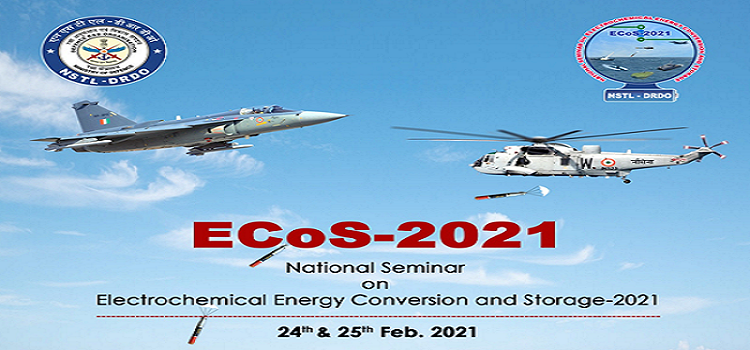 About Visakhapatnam
Visakhapatnam is a port city also known as the "City of Destiny" and "Jewel of the East Coast". This city is home to the oldest shipyard and is the only natural harbour on east coast. It houses Headquarters of Eastern Naval Command, HPCL Refinery, Steel Plant, Pharma and several IT industries. The city is famous for its natural beauty which is decorated with several beaches (Ramakrishna Beach, Yarada, Bheemili beaches, etc.), home to a preserved submarine at the Kursura Submarine Museum, an old Dutch Bungalow housing local maritime, historical exhibits, tourist places and Simhachalam, the Lord Narasimha Swamy temple. Borra Caves is another tourist destination nearly 100 km from the city.

Climate
Visakhapatnam presents a moderate climate in the month of February. The average day temperature is around 32 °C and night temperature is around 22 °C.
Objective / Aim of Seminar
Naval Science & Technological Laboratory (NSTL), under the aegis of Defence Research and Development Organization (DRDO), Ministry of Defence is organising a National Seminar on Electrochemical Energy Conversion and Storage (ECoS-2021) on 24th and 25th February 2021. This Seminar aims to bring together the leading Scientists, Academicians, Technocrats and Researchers from various laboratories, universities, institutions, industries and armed forces to exchange ideas, share experiences and research results regarding all aspects including latest developments of electrochemical energy conversion and storage, and related fields. This seminar will provide the multidisciplinary forum for innovators, researchers, educators, industrialists to present and discuss the recent innovations, trends, concerns, practical challenges encountered and the various solutions adapted to address the issues. This improves professional networking at National level thereby achieving convergence of scientific knowledge and pave ways to develop efficient energy storage and conversion systems to meet the needs of the day/ requirements of the nation. This Seminar will focus on topics of relevance to Armed Forces, DRDO, ISRO and other civilian applications.
National Advisory Committee
Chief Patron: Dr. G. Satheesh Reddy, Chairman DRDO
Patron: Dr. Sameer V Kamat, DG (NS&M)
Patron: Dr. O. R. Nandagopan, Director, NSTL
Co-Patron: Shri BHVS Narayana Murthy, Director, RCI
Co-Patron: Dr. M. Patri, Director, NMRL
Member: Shri. S Vijayan Pillai, Director, NPOL
Member: Vice Admiral S.R. Sarma, AVSM, VSM, COM
Member: Dr. N. Kalaiselvi, Director, CECRI
Member: Dr. K. Muralitharan, Director, CGCRI
Member: Dr. G Padmanabhan, Director, ARCI
Member: Shri. S. Somanath, Director, VSSC, ISRO
Member: Prof. Harish Hirani, Director, CMERI, Durgapur
Member: Shri. M.V. Raja Sekhar, Director (R&D), BEL
Member: Dr. A. J. Prasad, CMD, M/s. HBL, Hyderabad
Member: Dr. G. A. Patanjali, MD, M/s. HEB, Trichy
Key note / Invited Speakers
RAdm A.Y. Sardesai, FOSM
Dr. Vijayamohanan Pillai, Chair Prof., IISER, Tirupati
Dr. N. Kalaiselvi, Director, CECRI, Karaikudi
Prof. S. Basu, Director, IMMT, Bhubaneswar
Dr. Suman Raychoudhary, NMRL
Prof. S. Sampath, IISc, Bengaluru
Prof. Sagar Mitra, IIT Mumbai
Dr. R. Prakash, ARCI, Chennai
Ms. T.D. Mercy, ISRO, Tiruvananthapuram
Dr. J. Simhachalam, GM, ARAI, Pune
Dr. A J Prasad, CMD, M/s. HBL Power systems, Hyderabad
Organizing Committee
Convenor: Dr. A Srinivas Kumar, Scientist-H
Co-convenor: Shri M. Srinivasa Rao, Scientist-F
Organizing Secretary: Dr. TVSL Satyavani, Scientist-F
Co-Organizing Secretary: Dr. P.K. Pattnayak, Scientist-F Joint
Organizing Secretary: Dr. Kirtan Sahoo, Scientist-E Treasurer: Shri I.R. Abhishek Raj, Scientist-E
Assistant Treasurer: Shri K.U. Gokul, Scientist-D
Call for Papers
The main theme of the seminar is electrochemical energy conversion and storage systems, their development, present status and future endeavors in this field. Original research contributions are solicited for presentation at ECoS. The topics of interest include (but not limited to):
a) Advances in energy conversion and storage systems
b) Advanced materials for energy storage systems
c) Aqueous & Non-aqueous batteries
d) Fuel cells
e) Electrical Double Layer Capacitors
f) Lithium based batteries
g) Metal ion and metal air batteries
h) Hybrid battery systems
i) Redox flow batteries
j) Electrochemical Instrumentation
k) Emerging trends in non-aqueous and aqueous electrolytes
l) Cell fabrication processes (wafer thin pouch, prismatic, cylindrical, blade, etc.)
m) Energy management systems
n) Quality, Safety and reliability study
o) Power sources for Electric Vehicles
Guidelines for Submission of Abstracts/ Full Papers
Title (Times New Roman, Bold, Size-14)
Name of authors (Presenting author must be underlined)
Affiliation (Times New Roman, Size-12, Italic)
Email address (Presenting and corresponding author)
Abstract: (Times New Roman, Size-12, Bold)
Main text and references of the abstract must be typed using font 'Times New Roman' with size 12 and 1.5 line spacing. The text must not contain more than 300 words. Representative pictures may be placed. Figures must be numbered and centered to page.
References:(Times New Roman, Size-12, Bold) Standard reference patterns of Journal of Power Source may be adapted. *The abstract needs to be written on A4 size paper with standard margins (Left, Right, Top & Bottom margin of 2.54 cm each).
Abstract and full paper in word and PDF format shall be forwarded to the Convenor/ Organising Secretary. Full paper should not exceed 4 pages.
Important Dates
Abstract submission & Acceptance Intimation                          1st Oct 2020                15th Nov 2020
Full paper submission                                                                    16th Nov 2020             31st Dec 2020
Registration                                                                                      1st Jan 2021                 31st Jan 2021

Submission of abstract and registration for the Seminar must be completed online through the Seminar portal available at official website of NSTL.
Registration
Universities / Govt. institutes from India                        Faculty/Scientist/ Officers                        3000
                                                                                                     Research Scholars/ Students                    NIL
                                                                                                     Accompanying person                               2000
Industries / Public Sectors                                                   Employee                                                    4000
Registration fee includes seminar proceedings and other hospitalities during the seminar. Proceedings will be provided to the primary registered delegates. Registration fees is to be paid only by Online Fund Transfer to the following account:
Account number: ........................................
IFSC code: SBIN0011161
Branch code: 11161
Beneficiary name: Organising Committee, ECoS-2021
State Bank of India, NSTL Branch, Visakhapatnam-530027
Accommodation
Delegates may arrange their own accommodation and transport. Accommodation will be arranged in nearby hotels on payment basis, based on requests and availability.
Contacts
Convener / Organising Secretary, ECoS-2021
Directorate of Batteries and Explosives,
Naval Science and Technological Laboratory Visakhapatnam-530027,
India Contact: +91-891-2586267 / FAX: 0891 2559464
Email: ecos2021@nstl.drdo.in
Web: www.ecos2021.com
Sponsorship*
Sponsorships are solicited from institutions and industries.
a) Platinum Sponsor: Rs. 1,00,000/-
b) Gold Sponsor: Rs. 80,000/-
c) Silver Sponsor: Rs. 70,000/-
d) Bronze Sponsor: Rs. 60,000/-
e) Sponsor: Rs. 50,000/-
Advertisements in Souvenir*
a) Back Cover Full colour: Rs. 30,000/-
b) Inside Front Cover Page colour: Rs. 25,000/-
c) Full Page (inside) colour: Rs. 20,000/-
d) Half Page (inside) colour: Rs. 10,000/-
Mini Expo*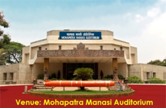 A mini expo is planned during the Seminar for display of products. Limited stalls will be available.
* For more details, interested industries are requested to contact the Convenor or Organizing Secretary.