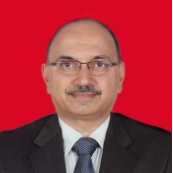 Dr Sudhir Kamath
OS/Sc 'H' & Director General - Micro Electronic Devices, Computational Systems & Cyber Systems (MED & CoS)
Dr.Sudhir Kamath, Outstanding Scientist, has taken over as Director General, Micro Electronic Devices, Computational Systems & Cyber Systems (MED & CoS) w. e. f. 01 Nov 2018. He holds M. Tech and Ph.D. degree in Electronics Engineering from Institute of Technology, Banaras Hindu University, Varanasi.
Dr. Kamath joined MTRDC, DRDO, Bengaluru in September 1985 and took over as Director MTRDC on 01 July 2015. There he handled various responsibilities as Project Manager, Group Head, Divisional Head & Project Director and contributed to a number of projects and technologies for development of Microwave Tubes. He has been involved in the design and development of various types of Helix- and Coupled-Cavity TWTs for Defence Systems. As project director, he guided the team to successfully develop Microwave Power Modules (MPM) and MPM based Transmitters for Radar, EW, and Communication systems. A number of these MPMs are in regular production.
He is the recipient of the DRDO AGNI Award for Self-reliance in the year 2003 and 2013. He has also received DRDO Scientist of the Year award in 2009 for his significant contribution in the field of Microwave Tubes. He has authored/co-authored more than 25 papers in national/international journals & conferences.
He is the former President of Vacuum Electronics Devices & Applications Society (VEDAS), Senior Member-IEEE, Fellow-Institution of Electronics and Telecommunication Engineer (IETE), Fellow-Vacuum Electron Devices and Applications Society (VEDAS), Member-Magnetic Society of India (MSI) and Society of EMC Engineers India.