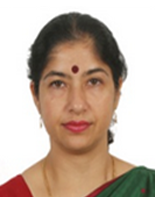 Dr. (Smt) Chandrika Kaushik
Outstanding Scientist & Director General - Production Coordination & Services Interaction (PC & SI)
Dr. (Smt) Chandrika Kaushik, Scientist 'H' & Outstanding Scientist, took over as Director General(Production Coordination & Services Interaction (PC & SI) w.e.f. 1 June 2022. She is a graduate in Computer Science from Delhi University and obtained her Masters in Computer Science from D.A.V.V., Indore and M.B.A. from FMS, Delhi University. She has also obtained a doctorate in Public Private Partnership in 2018.
She joined DRDO as Sc 'B' at the Dte. of Planning & Resource Management, DRDO HQs in 1991 and worked in various capacities in DBF&A and DMM from 1991 to 2001. She was responsible for design and implementation of the first Budget Information System (BIS). She contributed to formulation and monitoring of DRDO Budget and implementation of the Unit Code Scheme for DRDO Labs/ Estts.
As a member of the Integrated Materials Management Project team, she had contributed in formulation of various policies and procedures in the area of Material Management. She has worked for simplification ofFE release system, which was implemented across allDRDOlabs and CDA offices. Sheconceptualised and implemented the Air Consolidation Contract for transportation, customs clearance etc. for all imported goods.
She joined Advanced Systems Laboratory, Hyderabad in Sep 2001 where she established and headed the Materials Management Group and the Budget Group. She hadworked for the realization of a strategic missile configuration as Deputy Project Director. In addition, she was in charge of IT planning & architecture and MIS Group, where she established the Gigabit Ethernet intranet and DRONA network for the lab.
She was posted to Dte. Of International Co-operation, DRDO HQs in Apr 2006, where she has contributed in identification of areas of technology for International co-operation with countries like USA, UK, France, Israel, Singapore, ROK & other European countries and facilitated technical collaboration in the identified areas. She represented DRDO in the Inter Ministerial Working Group for export control of SCOMET items.
She moved to Dte of Interaction with Services for Business in May 2010 and has supported various DRDO labs by facilitating induction of DRDO developed systems through finalisation of SQRs, conduct of User trials and Categorisation. She supports the SHQs and Acquisition Wing by provision of necessary technical inputs from concerned DRDO labs. She has drafted many papers on Defence Procurement Policy, Defence Procurement Procedure and has keen interest in Self-reliance through Indigenous development.
She is a life member of Aeronautical Society of India, Indian National Society for Aerospace Related Mechanisms, Indian Society for Advancement of Materials and Process Engineering and Institute for Defence Studies and Analysis. She is also the recipient of the 'Best Techno-Managerial Service Award-2015' by DRDO.