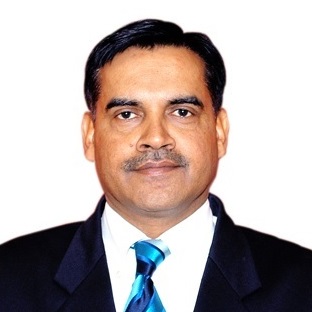 Dr A K Singh
Distinguished Scientist & Director General - Life Sciences (LS)
Dr. Ajay Kumar Singh, DS presently holding the charge of Director General Life Sciences, DRDO Headquarters w.e.f. 01st Oct 2018. Prior to this he was Director of Institute of Nuclear Medicine & Allied Sciences (INMAS) from 01 Oct 2015 to 30 Sept 2018. Dr. A. K. Singh also has vast experience in HR Management & has been the Director of four establishments of HR Management in DRDO viz. Centre for Personnel Talent Management (CEPTAM) from June 2007 to Sep 2010 and Dte. of Human Resource Development (DHRD) from Oct 2010 to 27th Feb 2013 and Directorate of Personnel (DOP), DRDO HQrs from 28th Feb 2013 to 17th June 2015.
Dr. A.K. Singh was born on 25th Jun 1961, did his M.Sc (Hons.) in Biophysics from Panjab University, Chandigarh and obtained his doctorate from Jamia Milia Islamia (JMI) University, Delhi on Infection Imaging.
Dr. A.K. Singh joined DRDO in 1988 and worked on various R&D projects. During his 30 years of service, he has made significant contributions in Infection Imaging and Internal Decorporation of Fission Produced Radionuclides. He has developed a "Diagnobact" kit, for detection of infectious lesion. He has introduced and nurtured pharmacosyntigraphy, i.e. application of nuclear medicine imaging in drug research.
Dr. A.K. Singh is the recipient of many accolades and recognition of his contributions for Life Sciences & HR Management. Few to mention are Young Scientist Award in 1999 instituted by Brig. S.K Mazumdar memorial trust for "Development of Ciprofloxacin Kit for specific Infection Imaging", DRDO Technology Award in year 2000 for work on "Development of Diagnostics Radiopharmaceuticals", Oration Award at Chandigarh Science Congress in 2012, Mrs. THANGAM VASUDEVAN AWARD, 2001 for "Development of A Cold Kit for Instant Preparation of Tc-99m-4-Fluoroquinolone for Specific Infection Imaging" by Indian Association of Biomedical Scientist and DRDO Scientist of the Year Award in the year 2006 for his "outstanding contribution in DRDO", Brig. S K Mazumdar Oration by Society of Nuclear Medicine of India in 2016 & J N Maitra Oration by Physiology Society of India in 2017. He has 18 patents and 57 publications in various national and international journals to his credit. He has supervised many PhD Scholars of India.
He has been instrumental in taking various initiatives for the future development in the field of aerospace and aeronautics as Coordinator, Aeronautics Resource Panel. He has patronized sports with equal enthusiasm as president DRDO Sports Board. Dr. A. K. Singh is an 'Antarctican'; he has participated in XIX Antarctican Expedition.