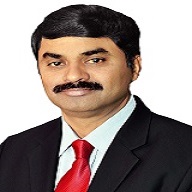 Dr G. Satheesh Reddy
Secretary, Department of Defence R&D and Chairman, DRDO
Dr G Satheesh Reddy, Secretary, Department of Defence R&D and Chairman, Defence Research and Development Organisation (DRDO), spearheads indigenous development of defence systems and technologies. As the top defence scientist in the country, Dr Reddy guides the development of major programs on missiles and strategic systems, fighter aircrafts and unmanned aerial defence systems, underwater systems, radar systems, strategic materials, armaments, and futuristic technologies. A visionary and institution builder, his technology leadership has deeply impacted the development of 'best in class' systems for the Indian Armed Forces.

Navigation technologies and systems, which form the core of defence assets have been designed and developed by Dr Satheesh Reddy for multiple platforms, enabling self-reliance in these critical areas. Working on the electronic designs and system engineering from a very young age, Dr Reddy facilitated the realization of various major defence systems in short periods of time.

With his vast experience in navigation and avionics design for missile systems like Agni, Prithvi, Akash and aerospace applications like G3INS for ALH, INS for ships and submarine application, he directed multiple development projects for advanced defence technologies.

As Director, RCI, he led the development of critical technologies for IIR seekers, RF seekers, integrated avionics modules and many other systems for onboard applications. As Director General of Missiles and Strategic Systems he spearheaded the development of various kind of missiles for Ballistic Missile Defence, Anti-Tank Guided Missiles, Surface to Air Missiles, Air to Ground Missiles, Air to Air Missiles and Long Range Guided Bomb.

India's maiden successful test of Anti-Satellite (ASAT) missile Mission Shakti was successfully executed under his watch. His tenacious leadership has enabled the development of Air defence systems BVRAM Astra, Akash, MRSAM, LRSAM, QRSAM. The world's longest-range gun ATAGS, anti-radiation missile, smart air field weapons, smart bombs, and missile assisted torpedo release systems owe their success to Dr Reddy's vision. Dr Reddy diligently drives innovation and cutting edge research in many areas that include hypersonic and quantum technologies.

Under his leadership, flagship programs on many advanced technologies and systems have been conceptualized and realized. These programs have led to the development and manufacturing of important defence systems within the country. He has focussed on all aspects of defence research, development and production by enabling industry.

Dr Reddy has helped foster an eco-system that encourages free thinking and creativity. The formation of young scientist laboratories working on niche technologies, establishment of new research centres in universities enabling close interaction with academia and fast tracking the transfer of technologies to industry are some of his bold initiatives that have laid the foundation for research and development of advanced defence systems. In addition, his mission to cut down the burdens of procedures for scientific pursuits, creating new challenges for the scientific community and enabling the scientists is bearing fruit. Among his other initiatives to facilitate industry are easing of ToT policies, IPR sharing with Indian industry, New Procurement Manual of DRDO, and Innovation Contests.

Dr Reddy also pioneered in quickly diversifying DRDO's talent to effectively develop required technologies in the ongoing fight against the Covid-19 pandemic. Under his guidance, nearly 50 technologies for combating COVID have been developed and about 75 products have been transferred to 100 industries. He demonstrated exemplary courage and leadership during the pandemic and his non-stop work bears testimony to his 'never-say-die' spirit, and effectively mirrors the outstanding humanitarian facet of a scientist.

Dr Reddy's significant contributions in the field of technology development and promotion of scientific pursuit have resulted in his being conferred with Honorary Degrees of Doctor of Science by many leading Universities in the country. His vast scientific and technological contributions have been acknowledged by leading international institutes in the form of honours and awards. He is the first Indian in over 100 years to be conferred with the prestigious Honorary Fellowship and Silver Medal by the Royal Aeronautical Society, London. The Royal Aeronautical Society recognised contributions of Dr Reddy towards indigenous design, development and deployment of diversified missile systems, aerospace vehicles, guided weapons and avionics technologies in India.

He has received numerous other awards including American Institute of Aeronautics and Astronautics (AIAA) Missile Systems Award. He is the first scientist outside USA to be awarded in nearly four decades. Other awards conferred on Dr Satheesh Reddy include the National Systems Gold Medal, National Design Award, IEI-IEEE (USA) Award for Engineering Excellence and the Homi J Bhabha Gold Medal.